Outer adventures
Wednesday, November 6th, 2013
The New Zealand Adventure, The Mountain Tales & Death of Magnus Kastengren – From My Perspective
Chapter 1
My great friend Magnus is dead. No words can describe how much he meant to me. He was like a brother.
He was also a son, a brother and an incredible friend of so many people out there around the world. Magnus treated everyone the same and he was a friend to everyone he met.
To all of you who knew Magnus: I'm terrible sorry! I'm suffering with you and I will try to shine light on what happened during his last weeks, days, hours and at the end minutes and seconds of his life.
It's a life that is now ended, a light that is now transformed and a great adventurer of life that has now moved on to new challenges.
For us who are still here you are a candle blown out and the darkness you left behind is hard, so hard, to bear.
Hundreds of people have been contacting me these last days. Incredible love towards Magnus and support towards myself have been sent and received from every part of the globe. I don't have the power to answer all of you, but you have together built a tower of love that has been holding me up during these days. The following story is for all of you out there who knew Magnus.
To all the journalist out there: The following is my written testimony and I might not give any further commentary for anyone to misinterpret and if there will be a story out of this in the future it's going to be through someone I know and that understands the ways of the mountains.
My personal gratefulness goes out to Magnus family, Ale, Bjarne, Heather, my own family, Emma, Mark and Merlin as well as to EVERY SINGLE ONE of you who I know and who I don't know yet who have been sending love though phone calls, mails, messages, Facebook, Instagram, Twitter and through thoughts. You have showed me, once again, what love and friendship is all about. Friendship is not a thing, it's an action, and you have all acted and created wings of love that can, to say the least, help lifting anyone up from the deepest depths.
Magnus would share my tears for your created beauty.
Chapter 2
The beginning of our journey. From arriving in Christchurch, New Zealand, to climbing the Footstool and Mt Aspiring to finally come back to Mt Cook for firsts on the East Face and the Bowie couloir.
I arrived in Christchurch on the 16th of October in the morning. I sorted our rental car out and waited for Magnus' arrival in the afternoon. We were both extremely happy to once again be on an adventure together. After one night in Christchurch we took of for Mt Cook Village to make use of the short weather window that seemed to be approaching.
We were talking about mutual goals and dreams and it seemed like neither of us had any big goals. We wanted to take advantage of the conditions we were going to be served with, and climb some of the higher peaks on the Island.
For anyone with mountain knowledge and our technical abilities it's a pretty laid back approach and we were both expecting a mountain holiday before a boot camp.
Both of us, however, have the "upwards strive" to get to places and to get to touch action when we have the opportunities and it was to become a bit depressing with the really difficult weather we were to have.
We arrived in Mt Cook village, met up with our mutual good friend Stefan, packed and got ready to fly out in to the mountains. But the next morning gale force winds were howling at altitude and we decided to wait for better weather to go up in to the highest mountains. Instead we set out to do the Footstool above the village in a single push from the parking. We got an amazing day together and skied the normal route in perfect corn conditions.
When we got back to our car the three of us took of for Wanaka where we stayed in our tent in Stefan's friend's yard for a bit more than a week. We had mostly rain and high winds during this time but we still took advantage of a very short weather window when we climbed and skied Mt Aspiring, New Zealand's Matterhorn and the highest mountain outside the Mt Cook range on the island.
We spent most of our time in camp together. We read, did yoga, talked about life, walked the town and kept our eyes on the weather forecasts.
Magnus was all through the trip filled with energy and shared his incredible humor whenever he had the chance and I think both of us were really content to be together and to spend time with Stefan and his friend Dave.
Finally we got a great improvement in the forecast and it seemed like the high pressure was going to stay long enough so that we would get a good chance to climb and ski Mt Cook, the highest mountain in New Zealand.
We flew in to the Plateau hut together with two newfound friends, Nick and Tyrone, and with food for a bit over a week. Weather looked best for the following day Tuesday the 29th of October.
We took of at 4 am with Nick and Tyrone as all of us had the same goal – to climb and ski the beautiful East Face of Mt Cook.
The conditions were as good as they could possible get with cold powder snow, exhausting to climb, but perfect, just perfect to ski. Everything went according to plan and we topped out around 11 am. Magnus and myself continued to the true summit while Nick and Tyrone waited for us at the 3-4 meter lower pre summit.
We were all extremely content with sharing this extraordinary day between the four of us and at around midday we carefully took of from the summit. Hard rime covered the whole ridge, but it was relatively easy to sideslip and jump turn here and there and it was not too exposed.
Then we went over the ridge to the East Face, me carefully going first. After around 10 meters, the hard snow turned to a short section of neve. It was exposed but relatively easy to get down with two axes going "full blades" in to the snow. After that around 50 vertical meters of "attention terrain" followed, but it was easy to ski or sideslip depending on personal preferences.
After this the run turned to sun transformed powder snow, very easy and predictable to ski.
At around three o'clock we were all back at the hut and had just realized the first repeat ski of the East Face and the first real continuous descent with skis on from the pre summit to the grand plateau via the East Face..
When on a mountain mission, actually reaching a peak, climbing at least one good route or feeling some kind of accomplishment eases of a lot of inner pressure. We had now had an amazing experience in perfect conditions among new and old friends and I think we all felt pretty content.
Magnus though, I felt, still had much more "upwards go" in him.
The forecast for the following day was half good to be positive, but we felt like we wanted to use the last good half day before the storm as well as we could. So at 6 am we set out for, what people has told us, the first descent of the Bowie couloir in between the Zurbriggen and the Bowie ridges on the north face of Mt Cook. It felt like the best option and the only chance of skiing something soft before the next front was about to come in at around midday.
At the top of the couloir we waited for about one hour for the snow to soften and it was almost transformed when the dark clouds and cold wind came in from the west. We quickly started skiing, but the cold wind refroze everything in 10 minutes. We managed to ski everything except a 3 meter down climb over some ice, and Magnus side slipping a bit more then me, but both of us were feeling confident and calm. We didn't get the conditions we had hoped for, but we had been out trying and still got to do a beautiful new line together.
I think both the East Face and the Bowie couloir deserves to become future classics. The East Face is the prime line from the highest mountain in the country and the Bowie is a great fair weather alternative in the same range and class as for example the Gervasutti on Tacul or Col du Courtes in Chamonix.
On the Thursday we were completely stormed in playing marathon rounds of card games, eating and talking among the boys.
The weather forecast foretold continuous bad weather and gale force winds for the following days so we left for the village the next day. On the top of the Boys glacier we stopped to take in the ambiance of the Caroline Face.
It was in perfect, perfect, perfect conditions. The biggest line in New Zealand and one of the greatest, yet unskied lines in the world was standing there with its solution in front of us and we were looking at each other like… we had got the greatest Christmas gift in the world presented for us.
We were going down, but we knew we could do this, at least if we were to come back in the future. The walk out went really quick and 4 hours after we took of from Boys glacier we arrived back at our car. Not knowing were to go next we went to eat and get an Internet connection in town.
We almost choke up our burgers when we saw that the forecast had totally sandbagged us. Instead of gale force storms we were about to have the biggest window of good weather yet with the prime day on Sunday the 3rd of November, two days away.
Had I been alone, I would not have had the power to restart yet again after a full day of walking and for a night of repacking with a big route the following night. I felt content with what we had accomplished already.
But Magnus was certain: "We haven't come to the other side of the World and then turn around with this in front of us". Magnus was on a quest now, super passionate and very inspiring to watch. I could not say no to this. It was a great chance for another last adventure before we would get some vacation road-trip-time.
We might as well go up there and have a look, and then do whatever would feel good, come back down safely and then get our vacation. So we flew in to the Plateau hut again on Saturday afternoon, eager for more mountain time.
This was the plan and our dream of our fate. But fates have a built in twist in them at times, and this twist came with emptiness and sorrow.
Chapter 3 – Joy transformed to Emptiness. The day of Magnus' death.
We sat out at 01:11 am on Sunday the 3rd of November from the Plateau hut. We made a quick shortcut below the east face to cut in half way on the classic East Ridge, the fastest and easiest way up to Mt Cook's middle peak.
Conditions were perfect, both for climbing as well as for everything we could see of our planned route down. We were euphoric. Magnus that often has a comical pessimistic approach to the future was a full shining smile, and me too for that matter.
It's days like this mountain people are dreaming about – when everything clicks, and the world transforms to perfection. Everything and anything both of us could have asked for on this climb was there. Nothing more was needed.
The last mixed 50 vertical meters to the top had black ice on it. We could both have soloed it easy, but we had plenty of time and had no need of scaring ourselves and take unnecessary risk.
20 minutes later we were standing on the summit ridge, and 5 minutes later on the summit. I made a platform, we hugged, we joked, we were happy. We knew we were about to create something magic together on this day. Not magic for anyone else, and nothing of any practical importance what so ever, but something beautiful. Beautiful, that's it – and what is more important than that anyway? Standing there on the top together was the highlight of our trip. It's not so because what happened later – that was how I remember I felt.
I clicked in to my skis, we did a high five, I checked my bindings and I told him to do the same, like I always do.
The summit ridge was hard snow, uneven, rimy, but very flat and extremely easy to ski for anyone of our experience. In fact, it was one of the easiest things we had done on the whole trip.
I slowly skied back down to the southeast face. When I arrived at our premade platform I looked back and saw Magnus coming, slowly and easily on the ridge, side slipping about 40 meters behind me.
I looked away again and instantly heard a noise and I could not make out what it was.
A minute or so later when I had expected Magnus to be with me I turned around as to see what he was up to. I was expecting him looking at the view; sort out something in his backpack or whatever. But I couldn't see him. Was he joking with me? There was a small notch above me and I expected him to be on the other side. Magnus didn't come, and I quickly changed back to crampons and started walking up the ridge.
Then I saw it. His ice axe sat deep in to the snow, just a meter or two below where I had seen Magnus last. It came to me instantly. Magnus was gone. I was running now all the way up to the axe to get an indication of which direction to call in the rescue, and where to start searching for him.
His axe seemed to have been swinged in to the snow, but he must have lost his grip around it. I didn't see any traces below, but I was guessing he had fallen down on the western side. I collected his axe and climbed down a bit on the western side. I could see a pole on a shelf a hundred meters below.
The chocking reality was coming over me and I had to gather everything I got to keep myself together. I ran over to get my pack and took out my satellite phone and called the number I asked for from the alpine rescuers. It didn't work.
I had nothing more to do than to call home to Bjarne, my good friend, in Chamonix. It must have been a chocking call to get, but he did an amazing job. I told him where to find the numbers, our location and that I was in need of a helicopter on the western side of the middle peak of Mt Cook. Bjarne got to work, and so did I.
Everything was quiet, the sun was shining, there was no wind, no nothing, empty space, snow, ice and rock. I have been alone on some very harsh places, but I have never felt more alone than that morning.
I started down climbing the very steep ice face below. It was brittle ice with rime on it and it was getting very steep at places so I felt more comfortable taking the rope out. I only had a 50m rope to go down a 500 meter steep ice face full of huge seracs, so I was not going to be super fast.
Bjarne did a great job from the other side of the world and got the full rescue machinery started while giving me updates and telling me to keep safe. That was a good thing to get reminded on, because I did not think much about myself at this moment.
I thought of Magnus, my girlfriend and of his parents. I thought of emptiness, his friends out there and I could feel how I was falling in to a deep black hole of sensations on this ice wall on the other side of the world.
On the little shelf 100 meters below the ridge I found his poles, as I did a solo traverse in to check the crevasses in his line of descent. I got a faint hope that they could have catched him, but when I got there it didn't make sense that he could have stopped there.
On hard steep ground it only takes seconds to accelerate to extremely high speed launching you out far on any air you would take. I traversed back to an ice gully and systematically abalakoved my way down to the lower slopes. The sun was coming up above the ridge and ice and snow started bombarding me as it melted loose on the sunny slopes. I got hit hard in the head and shoulders a few times. With tears in my eyes I was continuing downwards, and I felt like I was too slow, too ineffective, I just wanted to find him, help him and be with him now. Nothing else mattered. When the ice turned to neve I down climbed front pointing and swinging my tools for a couple of hundred meters down to the shrund. It was fairly wide and 2-3 meters high. I changed to skis and accelerated on the ice and jumped on to chalky snow on the glacier. I could see Magnus further down on the glacier from here and it took me less than a minute to get down to him.
From the depths of my heart I hoped that he would lie there smiling at me. I hoped I would have to do some first aid, that I would get to take care of him, I hoped… I could do something. But there was nothing I could do for my dear friend this morning.
He had fallen down hundreds of meters of seracs, everything as hard as ice.
Magnus was dead. First I wrote a full description of the scene, but I have taken it away to save those who don't want to touch death.
I checked his pulse at his neck and I could feel nothing but ice frozen skin. He had been lying there for 1,5-2 hours in the cold. I stood over him and I screamed, I screamed till I couldn't scream no more.
The joy his presence had filled me with was now only rotten empty space. This was not my friend Magnus; it was the cruelest part of existence looking straight at me. I felt ashamed, I felt guilt and I felt sorrow and I knew there was no way to turn the clock back from here. Then I started crying for Magnus family and all his friends from all over the world. I didn't feel worthy of having been so fortunate to share his last weeks with him. Little did we know of the close future, but we had more important things to do those weeks, creating mountain adventures and exploring our unknown.
We both keep on exploring, even though Magnus, get to explore the antagonist of creation. I'm glad he got good people by his side where he is.
I had been with Magnus' body for about 30 minutes to one hour when helicopters came circling the valley searching for us. At first it didn't seem like they could see us. I had no reception on my phone where I was standing, so I felt like I needed to find a new spot for myself.
I turned him around and fixed his clothing up so he would look more decent and then I looked into his one open eye like you do when you want to wish someone a farewell. Then I skied down 200 meters to a little sunlit plateau where I found satellite reception and got in contact with the rescuers.
They came to me first, took me down and away from the objective serac danger and then went and got Magnus from his last mountain of his life.
I got extremely well treated by the rescuers as well as by the police and I would like to send out my greatest blessings and gratefulness to all of you! You are and were doing an amazing job!
I spent the rest of the day in the Mt Cook Village with the police sorting out the paper work after the accident. I had loads of questions and ideas on how I could be of service to Magnus family and friends, but in the end I followed the Polices recommendations on everything. The only thing I took with me was his ice axe that I had collected on the top of the mountain.
When all this was done I didn't know what to do. I was alone and no one yet knew about the accident. I was alone, lost, tired and hungry and I didn't know at all where to go. To my rescue came my friends Mark and Emma. They gave up their vacation and were going to come pick me up in Mt Cook Village. I refused, as I couldn't stand staying at this place filled with my sorrow. I drove to Christchurch and they took very good care of me at their home the following two days before my flights back to Europe.
I once again want to thank everyone who has reached out to Magnus family and friends. I'm so sorry for your loss and I'm not going to run away from the fact that I also have responsibility for my friend's death. We where together in this and it's our mutual actions that has led up to this event. I'm sorry for this, I'm sorry that many of you are suffering, but it's also part of life, and hopefully this pain will work as sandpaper for our souls and Magnus will give us another lesson in the value of things.
Magnus had the incredible blend of genius, craziness, intelligence, empathy and humor of someone who lived his life to its fullest. Everyone who knew him know that he was following no rules or conventions what-so-ever, and he said the things he wanted to say, did the things he wanted to do and he did the above whenever it pleased. For me this is an attribute of a man of wisdom as well as freedom: as he was following his inner compass, and did not care what other people or society thought or did. Magnus was freedom personified and I owe him mountains of love for everything he has thought me.
I will remember you with love, my friend, for the rest of my life and beyond.
Chapter 4 – The Cause
For a skier with Magnus' experience, skiing down the summit ridge from the middle peak of Mt Cook was a total walk in the park. I have a hard time coming up with tasteful analogies, but imagine any descent car driver driving on a normal single lane but with cliffs on the sides. Anyone can do it as long as nothing bad happens to the breaks or steering system of the car.
Or for the Chamonix skiers: It's like skiing down the arête of Aiguille du Midi (skiing out of the lift station) in hard but good snow conditions. But this ridge is much, much easier. If the Arête on Aiguille du Midi is a black run, this is a blue run.
It was so easy to ski down this ridge that I first thought Magnus had played me a joke. He couldn't be serious falling of something like this and it took me 15 minutes to actually understand it was true.
Magnus was not even turning on the ridge going down relatively slowly.
In my world, the only thing I can Imagine have happened is that he was going down, not paying full attention as it was so easy and then one ski must have come of. He must have realized too late, tried to self-arrest with his axe, lost the grip of the axe and then accelerated in to eternity. I have no further theory.
His cause of death, I was told after the first examination, was hard trauma to his head.
Afterwords
Now it's all out there. I have no further information.
I will want to keep on talking to the important one's but I have no further information for journalists that I don't know or news seekers. Feel free to say and think whatever you want on this topic.
This is the reality of what happened as I see it. If you like to use it in media, write a short intro and direct those interested in the full story to my blog. There are enough misunderstandings anyways in society of what we are doing in the mountains and I don't regret going out there among the clouds, it is still worth it.
For me, Magnus did not really do any mistake. Of course there are infinite options of what he theoretically in retrospective could have done, but anyone with experience of life understand that he simply didn't. I didn't.
A binding came off at the wrong place on the wrong day in the wrong situation, life multiplied its actions and then you are sitting here reading about it. Things like this have happened to friends before and I once again got a reminder that: "the devil is in the detail".
What is done is done and what has happened has happened. I need time to tell what I will do with these events, and I guess so does a lot of people.
I ask myself what to do with the rest of my life everyday. I know that I'm human and that I have all potentiality within me. I'm a boyfriend, son, skier, mountain lover, climber and thinker of plain as well as sublime things. I will keep on asking the same questions and see what answers might come out of all this.
What I do know is that a life without seeing magic is not a life well lived. Mountains are just one tool in this quest, but it's the one I know and the one I breath. It's not about going out in to the mountains because they are worth dying for. I don't think there are many things that are worth dying for, but I still need to go out in to the mountains because they give me something to LIVE for.
I want to live with excitement, love and joy pouring out from my heart, just like Magnus, and then all those other questions just disappear. Left is meaning and beauty and memories of a man who lived his life to it's fullest.
Magnus, you will be a torch, for many of us to follow in the obscurity ahead.
Friday, October 25th, 2013
The New Zealand Ski Adventure – Mount Aspiring
Like always when on the road trying to climb and ski mountains, one has to have a bit of luck. Weather at the moment here in New Zealand is tricky for mountain skiing, to say the least. After our last ski on the Footstool we went down south to Wanaka to make the best use possible of a forecasted 10-hour weather window between gale force storms.
Of any mountain down here Mt Aspiring is the one I've heard most about. Some call it the Matterhorn of NZ, and it's the only peak over 3000 meters outside of the Mt Cook range. Of course it has been on our bucket list, so this weather window seemed to possibly work for this objective.
We set out on Wednesday morning and had an easy day walk in to the French hut below Mt Aspiring. I must say that this walk definitely jump straight in to my top three lists of "most beautiful approaches" that I have done to mountains. Stunning landscapes, loads of animals everywhere and sharp mountains made the ambiance unforgettable.
The forecast said that we had a window from sometime around midnight until late morning when another storm was supposed to come in so we knew we had to start moving early.
At three we left the hut, and just before 10 we sat at the summit, having climbed the southwest ridge in perfect neve conditions. Mt Aspiring has plenty of potential for short steep lines for skiing, but after all the gale winds lately everything was verglaced, and we had no time to wait for any future sun to warm it up. We clicked in to our skis and skied down the normal Northwest ridge, with some down climbing on the worst parts of the ramp lower down.
When we got to the glacier, dark clouds was coming in fast from the west and we couldn't see each other because of the fog. We quickly skied down to the hut, changed to shoes, repacked our bags and walked out the same way we walked in. When we arrived at the car 5,5 hours later the rain started. Timing was perfect and our goal of a nice day out in the mountains was accomplished.
With the weather and conditions we have at the moment I'm happy just being up in the mountains with a good friend, getting to climb some nice lines when we get the chance, ski what we can, take some good decisions and just enjoy being up there among the clouds.
Monday, October 21st, 2013
The New Zealand Ski Adventure – Part 1
Packing, preparing, some nice skiing and waiting for weather windows.
After years of dreaming I finally made it to New Zealand! With very little computer time I'm going to keep it short, but I promised family and friends I'd post photos, so the bigger stories and reflections will come later.
Following arrival in Christchurch and met up with my good friend Magnus Kastengren at the airport. It's great to be back on the road with him, as we haven't matched plans since our very enjoyable Denali trip a few years back.
We got our stuff sorted, did some shopping, said hello to friends in town, stayed one night (huge thanks Emma! ☺) and then turned our old rental car towards Mt Cook village (where we also teamed up with Stefan Sporli, a good kiwi friend living in Cham). Our goal was to make use of the short weather window of the weekend for some ski mountaineering on the main mountains, but gale force winds turned against us and instead we did a one-day push on the Footstool above the village.
It was a nice, easy and enjoyable day out with some amazing corn skiing. Then we sat down again, tried to analyze the treacherous weather forecasts and decided to go south. That's where we are now, on an old nudist camp ground with our tent pitched next to Stefan's trailer.
Hopefully the weather will give us just half a day of clearing so we can do something classic around Wanaka. It's living the life though… Being back in the car, living the gipsy life with good friends and just following the weather cycles and our own motivation. Hopefully we'll also get some nice mountains climbed and skied along the way.
Wednesday, August 7th, 2013
A Winding Testament Of Our Peru Adventure
Dreams. I don't know where they are coming from. Well, that's a lie really, so I will keep it for my self a bit longer. What I don't know is what they are made of. They sipper in through the cracks of my reality, mostly at night, but also in the daytime at times when my mind wanders. They are like invisible smoke dancing in the shadows and I think that it was they Tarkovskij was speaking about in the deserted landscapes of Stalker: "What they call passion is not emotional energy, but the friction between their souls and the outside world".
They hunt me down whether it's tenderly with a softish smile or they take me over and make me think they are power enough to live for. Dreams are the dance of heaven and the source of both the beauty and pain of creation. But they need space around them so they can inspire themselves freely and grow with the dance, grow beyond our logical reach and take us with them on journeys we no longer create. That's where we learn new things and our reality expands, slowly, slowly with every piece of the puzzle put together and we start to nod first insecurely, but then when we get taken my the magic of the puzzle – then we are nodding firmly, agreeing with life, agreeing with everything. Explications are no longer needed and we get a harder and harder time seeing if it's we ourselves that are dreaming, or if we are already living in the dream.
But then comes when we wake up. That sometimes happens you know, that the glass house get crushed, falls together and the pieces spread out on the floor. We wake up, and instead of thinking that learning is always a upward going process of small victories put on each other in a big pile – instead it's a up and down going rollercoaster.
And the funny thing is, depending on how we turn our head, up can be down and down can be up and every possible place in between. What we thought was magic at the mountaintops of our lives is everywhere. It's just a matter on how we turn our head, and how we spin around with the ballet of perception. And sometimes, the only way to win is to loose.
A grin comes to my face. Because I know this, but still in the heat of winning and loosing, my mind is playing for the winning hand. But I guess… that's only natural. It wouldn't be a game worth playing at all if we didn't argued it's real. Like in a theatrical drama both the hero and the villain has to play their roles to their ends, otherwise they wouldn't be able to create beauty on stage. In the green room though, they are once again best friends, and from a good and understanding audience, even though their feelings goes to the hero – the villain too, get warm applauds for good acting.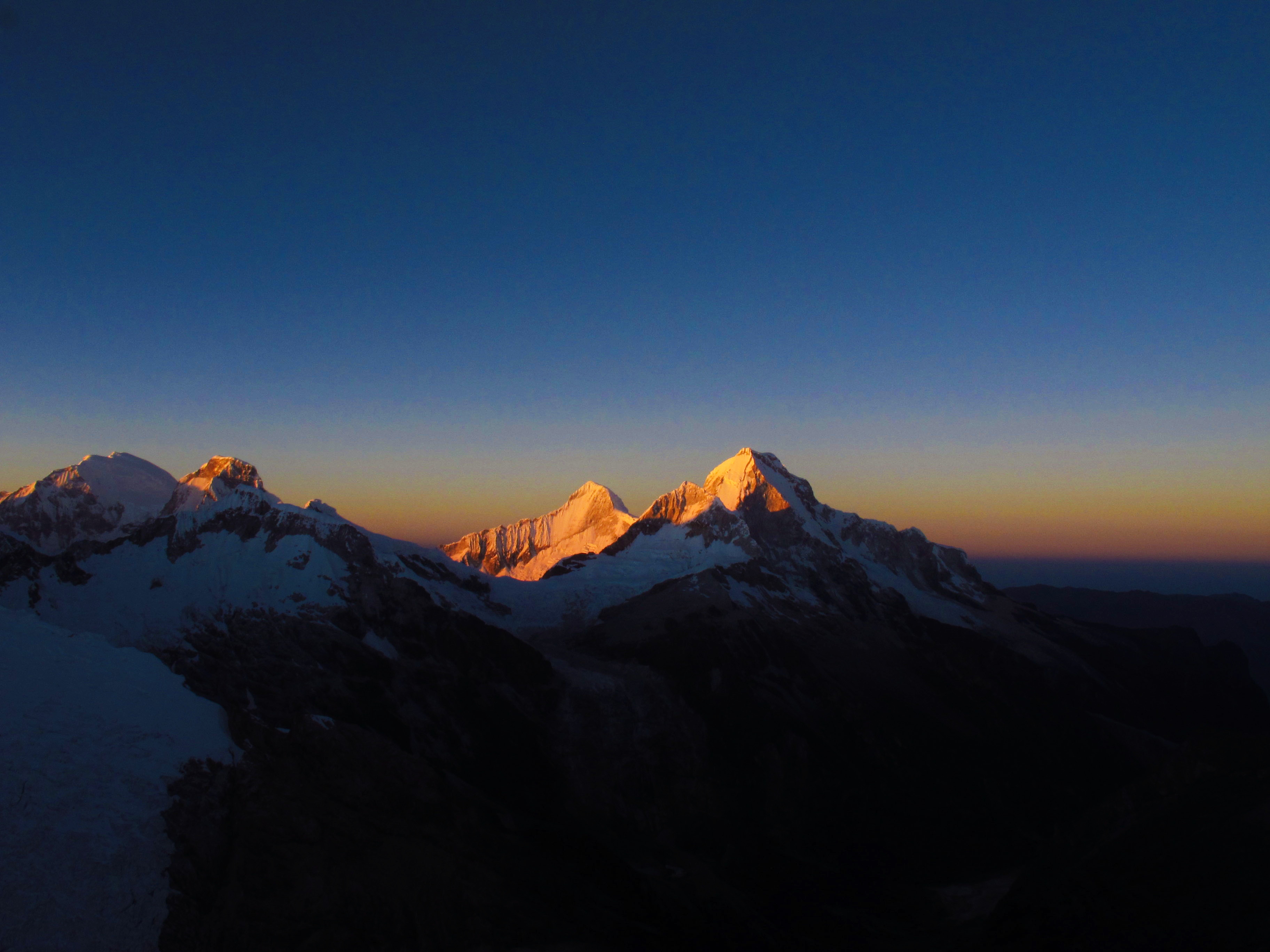 This was supposed to be a story about the mountains, and in many ways it is. It's just that I don't like to just scrape on the surface; I like to unwind the code.After three great but hard weeks in the Cordillera Blancas we threw in the white towel and ended the game just when we had laid the foundation and as going to ripe it's fruits. We were done with the acclimatization, we had all the ground support set up, we were in shape, we had great objectives and good beta. It was the best snow year in a decade.
But there was this major thing that we had against us – a bad gut feeling.
It was there in the background at first, and my mind always start the inner dialogue throwing arguments up in to the air, have them fight amongst each other and then wait to see which one's are still standing when the fight is over.
Most importantly, I start meditating on the feelings and keep on collecting arguments favoring both sides of the inner discussion. If I have a bad gut feeling in the mountains I turn around straight away, but if it's during a project, then I become a collector of values.
Hard winds were totally wrecking the snow and storm winds from two different directions came in after our last acclimatization trip to Artosenraju. Freeride skiing was over, and now it was only a story about getting up and down things alive. Many, if not most, things media writes about from big mountain skiing covers this kind of skiing, and it sounds cool, look cool, but it's actually kind of fake. The question society ask in general is always what was done – and never how it was done. It's the wrong question to begin with and it goes in the wrong direction when the following story is built on a cracked foundation.
Bjarne and myself have a kind of unwritten rule, and it is to try to not do to many stupid things. And we had put ourselves in a complex situation. The glaciers we had to travel were really complex, and not at all, by any means even thinkable to do unroped. Especially when climbing. So we couldn't really get to the lines and at the same time do filming from the other side of the valley. It was just not possible. It usually is, but we had misjudged the situation. We were one man short.
A lot of accidents were happening in the mountains. When we were there the first two weeks, three people died, where of one skier. Different mountains, different people, no one we knew. It didn't have anything to do with us, right? We are doing this from the roots of fun, and young people dying when they are doing something they love can maybe be said to be romantic, but with too many friends parted for the same destiny it's just sad. More things sounding responsible can be said, but for me it's just sad, and it didn't add to our motivation.
Moreover, most of the major lines in the Cordillera Blancas have loads of seracs. And we would need to move under them on every worthy objective we had found. Would the risk equal the rewards to go and ski some shitty but doable ski just to log a first descent or a beautiful line? Not really.
Still I was trying to make strategies, carve around these and many other arguments. Of course there are many more unsaid ones, there always are. But I'm not here to defend ourselves, just to put light on the processes marching by our though streams when we were in the mountains to learn.
I was still trying to negotiate my way around these arguments, and I found a great objective that was really worth checking out. The stars were aligned and my faith returned. We had a weather window before more hard winds were going to come in and this face had been sheltered from most of the past storms.
I told Bjarne my idea, and to time it right we would have to leave the next day. Bjarne just look down at the floor with an empty face. He had had enough.
I had also had enough, unconsciously, but I was trying to find ways to not loose. But with his answer, or missing answer, I knew straight away that we had not played our cards right and we were going to loose this game. One can say we were unlucky or the circumstances were not with us, but I like to see it like we were given a bad hand of cards. And we didn't play bad, but we would have had to play outstandingly good to realize dreams on this adventure. But as I said before, it's all about how we turn our heads and how we tune in our perception.
We got both an inner, as well as outer journey in the end. We got to spend time in the beautiful Peruvian mountains and we got to meet plenty of really beautiful people like Aldo, Marco and Elena at Galaxy expeditions, Chris and Isa at Andino and of course our Ecuadorian/Venezuelan friends, all of you, that made our time so truly amazing.
Bjarne and myself split up for our inner journeys. Bjarne went back to his natural elements at the coast, and I went to the Amazonian jungle for three weeks of meditation and reflection. For me it was a big dream come true to experience the deep jungle, living outside, most of the time alone and be close to both the life and the emptiness that is part of creation.
The answers and rewards usually come slowly to me after every time I have been able to totally disconnect from what would be called normal life. But for me it is as important to give space to emptiness as it is to eating, drinking, training, loving and sleeping – because it is emptiness that is implying all the other one's, and not the other way around.
Now it's time to be home and see what dreams that will come seeping out from the cracks of creation, spend time with family and friends and get ready for some summer (skiing).
Wednesday, August 7th, 2013
Artesonraju – A conceptual experiment
Last week Bjarne Salén and myself went in to the Paron valley to continue our acclimatization on the mythical and indeed beautiful mountain Artesonraju, 6025m. The mountain is widely known from the Paramount Pictures logo and for being one of the main objectives for climbers (and a few skiers) in the Peruvian Cordillera Blanca. I thought it would be a perfect second step in our acclimatization because it's very straightforward and doesn't have any major difficulties neither for climbing nor skiing. But it's needed to be said again, it's up there among the most beautiful mountains I have ever seen and I was really psyched to get the chance to ski it.
After an easy hike up to moraine camp at 4800 meters we took one day of rest to really get the feel for the mountains and the conditions. At arrival the mountain looked pristine and perfect after a few days of wet snowfall. But on our rest day gusty storm winds were totally devastating for the ski conditions and plumes of snow were permanent on several places of the face. The result for my freeride dreams of the face was quiet obvious, but I always want to go up there and really give dreams a chance to unfold. You newer know, maybe there would be an untouched corner of the face where the snow would be at least consistent and grippy.
We started at midnight that following day for the summit bid, skipping the high camps, but giving myself time to really walk slow if I would need to. I really down graded myself with the timing. In the middle of the night we reached the bergschrund and before six o'clock I was at 5700m, high up on the face and maybe 1-2hours from the top. When taking of above the bergschrund the feelings for the conditions were not good but I still reasoned I wanted to go as far as I could till I could see what the wind had done with our objective. Bjarne followed me up to the schrund, and waited there together with our newfound Ecuadorian guide friends who abandoned their try already there.
It was a beautiful sunrise, and it was a devastating view to see the face: perfect steep skiing powder destroyed by warm winds and then refrozen through the cold night. The result: ice topped sastrugi as far as the eye could see.
This is a face that has been skied quiet a few times before. Ever since Patrick Vallencant did the first descent over thirty years ago people have come to ski this beauty. It's arguable what skiing means, but I realized I could not do anything more than sideslip and hop turn this face at best. The dreams and steepness was set up on GS turns and smiles, not doing my best to kick in my edges in to the ice.
I was surprised to get comments later, saying I was giving up to easily and that I should have finished the project no-matter-what. For me that's totally ignoring the process of why I do things. And skiing, I think, needs a bit more of ideology and style than we have at this moment. It feels like we are where climbing was 30-40 years ago when getting up by any means possible was the only thing that mattered. Success was counted by reaching the summit, and the means, whether they included using oxygen, aid or drilling bolt ladders was forgot in the process.
Now we are kind of in the same situation in mountain skiing as climbing was in back then. It's all about just getting down things and no one usually ask how we did it. Any descent skier can technically get down any classical ski run. And that might be great for them, but no one usually asks how (style, technique, reading conditions, avoiding risk) and the mainstream focuses instead on what (the name of the run) we did.
Of course, skiing the hardest and steepest things out there will never look pretty, but skiing classical lines by the high standards of the skiers of today – should, look amazing – if the timing of the right skiers are at the right place at the right time in the right conditions. It's just a personal opinion, but I think the ethics of skiing need to catch up with those of climbing to preserve some of the esthetics mountain skiing really deserve to have. But behold: don't be afraid of going out there and try! With trying comes defeats, but it's the only way of reaching for our dreams!
So this is all that went through my head on the higher slopes of Artesonraju, one of the most beautiful ski mountains I have ever seen. I knew I would reach the summit in an hour or two, but I also know I would only sideslip the upper 400 meters with an ice axe. It would be a kind of mountaineering micro success, by reaching the summit and then get back down alive. Down climbing was, at least for my ability, a no-go with the soft unreliable sugar snow below the ice topped surface. It would have been a nightmare. But with skis on, it felt ok, but it was for sure not pretty.
If I have a dream line in climbing that I really dreamt to do free, and if I was almost at the top before the crux pitches and it started raining. Then I wouldn't try to go up there by any means. I would be there for the experience of climbing those pitches, not for getting to the summit. I would smile with the wind and rain in my face with equal joy and disappointment. I would just turn around and if the dream was strong enough, then I would come back one day. But I would definitely take a defeat for a defeat, knowing that it's part of life and the only ingredient in life that creates the room for the sweetness of success.
I made a platform, clicked in to my skis and effectively lost vertical meters quickly making a turn here, a turn there. Side slipped where I felt like I had to.
I got down to Bjarne, Estalin and Pablo – We high-fived and returned back down to camp.
There was not much to be said. Everyone there knew the ways of the mountains and topics was already on the next one to be tried, the food, the drinks and the friends down in town.